January 7th, 2008
---
06:53 am -

ICON POST: Boosh, Head Shaman


I've been working on a fic with the Head Shaman in it recently. He was fun in the last series, wasn't he? Though I liked his old head tattoos better.

Sample 3:



1,2 2a



3,4


5,6


7, 8, 9


10, 11, 12


14, 15, 16

Some old ones from Series 2:

17, 18, 19




And have one random peacock:
20


Any icon requests, text requests for these icons, feel free.

Why can't I ever text them with Boosh quotes? They never seem to fit.

Comments:
---
I've got a request! #2 with the text, 'To Oddbins!'

Purdy please? ::bats lashes::
Hah hah, I love it!

Yep, I'll do it later this night.
There you go.

That is brilliant, thank you sooo much!
I made it over to have a look-see! :)

Could I request an icon from the scene in Party where Dennis is 'talking' to his wife, and he says "I'll deal with you later" before heading up the stairs? *flutters eyelashes*

I'll take no. 6 and no. 11.
I'd love to make icons of that moment, but I don't have very good screencaps yet. Only this one:
These are better, from the scene with Naboo earlier: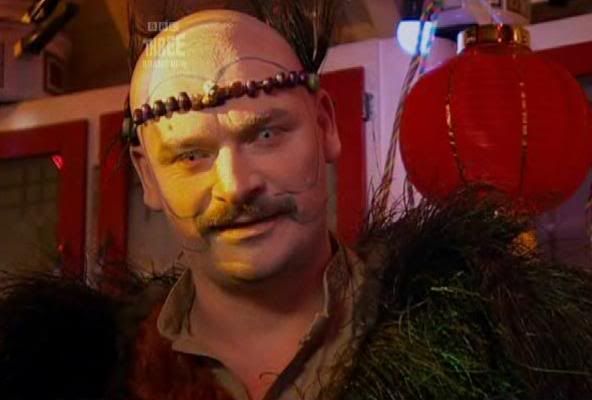 Do you have a screencap of it yourself? Share, please?
BTW, did you see this pic? WOW!!!!! See how Julian's cupping his tummy, so low and sweet? Sex.